"livingoffside.com Academic" is a title that covers Tim Lewis' academic writing and teaching.
 The origins of livingoffside.com Academic can be traced back to the 1970s and '80s as Tim became increasingly aware of the cultural value of sport to varying degree in all of the communities he visited.
 Tim took the photo (above) at the now demolished Giants Stadium in New York during the 1994 FIFA World Cup in the United States. It is provided as an illustration of the value – for some – of sport representing national cultures and images. In the case of this match Irish and Italian fans and even this lone Greek supporter await the arrival of the teams clad in national symbols.
The 75,338 crowd in the Giants Stadium that day could be 'broken down' into many different groups. An obvious split would be those fans who had travelled to the USA for the World Cup from Ireland and Italy compared to those who identified with their 'national' teams but who had established their homes in the United States generations earlier.
The stadium crowd was also made up of neutral spectators – many new to soccer as a team sport, established US soccer fans, tournament sponsors, journalists and so on.
Although this is a very basic consideration of a sports crowd and national representations, Tim has applied more detailed research across Europe, Australia, Brazil, Hong Kong etc.  into the cultural value of sport. As the years went however Tim became more and more interested in how the media portrayed and potentially influenced sporting cultures and national images.
Today, Tim teaches students – mainly from Europe and the United States – about the potential impact of sports reporting on perceptions of national identities.
Tim conducts such teaching through a 'Welsh case study' entitled The Cardiff Course.
For more details about Tim's courses you can contact us through this website.
Further information
Through my research work with livingoffside.com I have come into contact with a great many people involved in the staging of international sports events.
Avoiding the somewhat dated concept of a "sports museum", I along with my friend Tim Evans felt that a venue which celebrated the Welsh Sports Experience would be a significant contribution to Wales and its global profile.
We spoke at length to people within Welsh and UK sport and government culminating in a meeting with the Secretary of State for Wales and others at the UK parliament in April 2016.
In 2018 we hope to announce our recommendations for what would need to be a multi-agency approach to providing Wales with a centre to celebrate its sporting heritage and future.
Attached is our original 2014 report.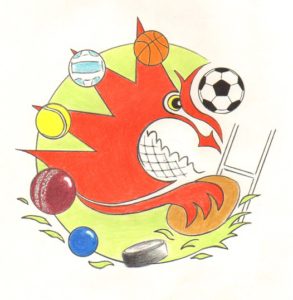 Creating The Welsh Sports Experience 08.10.14
If you have any thoughts on the above you can contact us on https://livingoffside.com/contact/.